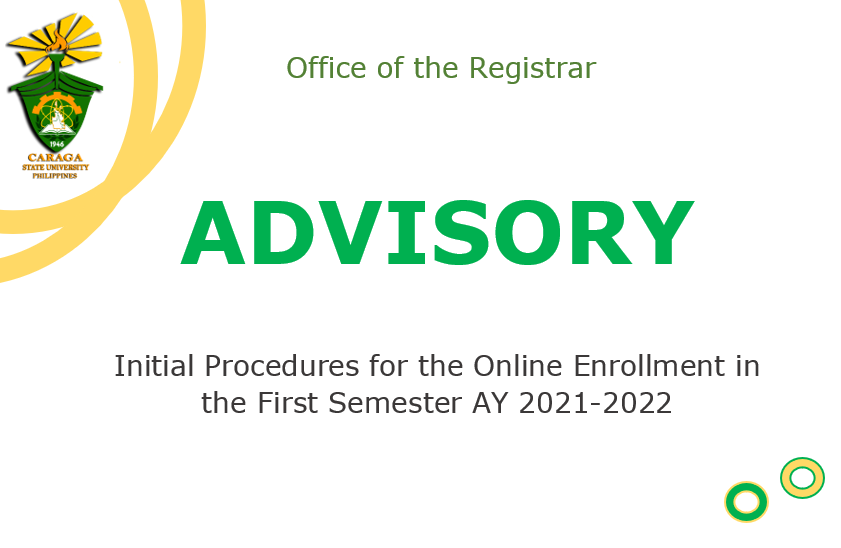 The following are the initial procedures for the Online Enrollment in the 1st Semester., AY 2021-2022 (from August 16, 2021 to August 21, 2021):

FOR FRESHMEN:
Please follow this procedure:  Click here to view

FOR TRANSFEREES AND SECOND COURSER:
a. Who cannot personally visit the campus,
Please email us your Name, Contact Number, other contact information such as Facebook Profile Link ex. -->(www.facebook.com/username) at registrar.csumain@carsu.edu.ph so we can facilitate your enrollment concerns. 

b. Who can visit the campus face-to-face
Please visit the Office of Admission and Scholarship (OAS) and Office of the Registrar (OReg) for assistance and guidance of your enrollment concerns.

FOR OLD STUDENT:
Please click the Online Enrollment module in your MySchool account.

FOR SHIFTING OF PROGRAM AND STUDENT REINSTATEMENT (Old Student Only):
An Online Shifting Form or Student Reinstatement Form will be available upon clicking the Online Enrollment in your MySchool account. Once you're in the Online Enrollment, you will be redirected to a corresponding Google

Form to fill out.
FOR STUDENT LEAVE OF ABSENCE (Old Student Only):
Please visit this link: Click here to visit link

May you be guided accordingly.
Thank you and Stay Safe!